This course will be presented by: Wendy Zander MSN/ED, RN, CNOR
To both register and pay for the class online fill out the form below then click submit. You will be asked to verify your information and confirm your registration.You will then have the option to pay by PayPal or a credit/debit card
.
We do not store any credit card information at all and all transactions are sent through an encrypted connection.
This class is held over a webinar system. Prior to the class you will receive an email detailing how to login to the webinar as well as the support section for the system. We highly recommend that you test your computers settings and performance before class.
Please be aware that this class will start at:
7:30 am Eastern Time
6:30 am Central Time
5:30 am Mountain Time
4:30 am Pacific Time
Details are provided in the confirmation email you will receive upon registration.
You can download and print a brochure for the event by clicking the link below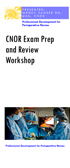 June 2018 CNOR Virtual Brochure
We are offering a discounted early registration until the end of day on May 2nd. You can continue to register until Noon(EST) on May 26th at the regular rate.
I look forward to having you in class!