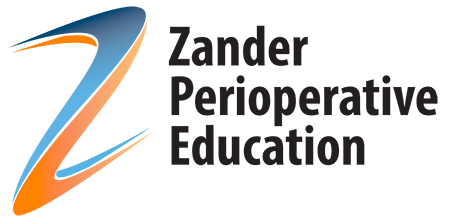 Professional Development for Perioperative Staff
Login
Already part of the Family? Login below to access your content.
WAG Interview - Part 1
Wendy spoke PACU Nursing Minutes regarding Waste Anesthesia Gas
CNOR®​
Our CNOR® preparation class is second to none. Created in 2004 by Wendy Zander MSN/ED, RN, CNOR this course has been continually updated and represents the very latest in standards of practice.
Perianesthesia
This Course was developed to help perianesthesia nurses just like you become certified. The course was created by our PACU educator in a large teaching hospital.
CST
We developed this course to help Surgical Technologists just like you become certified. The course was created by the educator for Surgical & Sterile processing Techs at a large teaching hospital.
Tips for your success
Here are a few simple things you should do to help insure your success on your exam.
1. Schedule your exam!
Everyone works better with a deadline.
2. Know your learning style!
People learn differently, Understanding how you learn best will help you tailor your study in the way that will best serve you.
3. Set aside time to study!
Its easy to let life get in your way. Work, family, kids and even pets put huge demands your time, so should you! Set aside a hour a day to study for 6-8 weeks prior to your test and stick to it!
4. When in doubt - Look it up!
Practice questions and flash cards are a great tool for study BUT they mostly teach you how to answer test questions. While it is important to know how to identify the root of a question or how to rule out answers, we feel it is much more important to understand the "why" of the question. Use questions you got wrong as a tool,  go look up the correct answer and more importantly understand why it is the correct answer. You'll be amazed at how easily you retain the information once you understand why.
5. Don't wait until you know everything!
Don't wait until you're perfect. Perfection is a lot to ask, don't beat yourself up about it. There will be questions you are unsure about. Work through the problem.
Identify the stem of the question, what is it really asking,
eliminate distracting information.
eliminate answers that are obviously incorrect
Look for opposing answers, if they exist one of them is usually correct.
"I have learned so much through this program. There are many inefficiencies and areas where we can improve safety and training or OR staff at my current facility. I have begun implementing some of the changes that were needed for my practice. Most being things I was taught incorrectly as a new RN."
"I very much enjoyed the course. Wendy was an excellent instructor. I found her to be extremely engaging and knowledgeable and I truly enjoyed listening to the lectures. I will recommend this course to any of my colleagues looking to further advance their knowledge/practice and certainly to those planning to take the CNOR exam."
"Wendy should offer this course to Peri-op 101 nurse educators, to teach new to the OR nurses!!! Especially new grads! I am not even joking a tiny bit. I learned so much. I can't put into words how much this course is taught me….and I've been in the OR for 22 years!!"